STYLISH, PRACTICAL & VERSATILE LEATHER MATS FOR KIDS
We've designed stylish, practical mats to protect you from life's spills, drips and sticky fingers. 
Pop one on the table, under a highchair or out on the lawn. Our bonded leather mats are a clever alternative to brightly coloured splatter mats or picnic rugs that require constant washing.
Simply wipe clean, hang from a hook and you're done!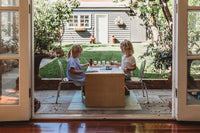 "Versatile mats great for children's messy play or an upmarket stylish picnic rug and much more. Great colours choices and fast delivery"
Shop Now